"Nepal is there to change you, not for you to change it. Lose yourself in its essence. Make your footprints with care and awareness of the precarious balance around you. Nepal is not only a place on the map, but an experience, a way of life from which we all can learn."
Stephen Bezruchka - A Guide to Trekking in Nepal.
Design Your Own Trip
Discover Nepal has offered several fixed itineraries in all of our destinations. These itineraries were selected due to popular demand. However, our services are not limited to these fixed itineraries. If you feel these itineraries do not meet your interest, schedule, or budget, please write to us and tell us about your requirements. We will look into it and get back with an offer. Discover Nepal is continuously exploring new areas and new packages.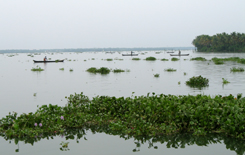 Discover Nepal principals and leaders have been traveling and leading customized private trips in the Indian state of Kerala and are fascinated by this lush and tropical state. Kerala offers friendly people, beautiful beaches, back water trips along thick lagoons with stops to explore the spice cultivation, and complex cultural traditions. Fort Cochin city, our main destination in Kerala, offers a wealth of history. With it's beautiful Portuguese and Dutch architectural influence, Fort Cochin offers the oldest church in India and the 16th century synagogue. We hope to offer a two week fixed itinerary to Kerala soon which will also include visits to Taj Mahal in Agra, half day in Bharatpur bird sanctuary, and sightseeing tours in Delhi.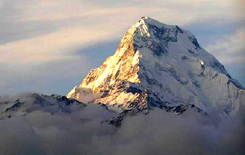 Some of our veteran trek leaders consider Khair Lake in Nepal as one of the most spiritually beautiful places on earth. This trek to Khair Lake begins from Pokhara and carves its way deep into the heart of the Annapurna range, heading to the Annapurna South base camp. Khair Lake at 4000m is a pilgrimage destination for followers of Shiva. The trek offers breathtaking views of Dhaulagiri & Annapurna. This trek follows quiet trails away from the popular routes passing through some traditional villages and dense forests before entering the spiritual wilderness. This is a category C trek and will soon be offered as a three week trek with some time to explore Kathmandu and Pokhara.
Travel has no boundaries and the above is just an example of what is possible. We can customize itineraries that are specifically designed to meet your travel requirements. If you can imagine it, we will research it. If it is culturally, environmentally, and legally acceptable, we will be happy to make the arrangements for you.