"Nepal is there to change you, not for you to change it. Lose yourself in its essence. Make your footprints with care and awareness of the precarious balance around you. Nepal is not only a place on the map, but an experience, a way of life from which we all can learn."
Stephen Bezruchka - A Guide to Trekking in Nepal.
About Us
Discover Nepal is a travel company that specializes in trekking, jungle safari, white water rafting, and cultural tours in South Asia. Founded in the fall of 1997, Discover Nepal's principals offer you more than 25 years of combined experience in trekking and travel in Nepal and India.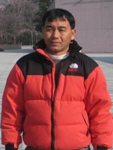 Mingmar Lama - Tour Operator & Trek Leader
Mingmar Lama handles all custom designed treks and tours for Discover Nepal. Mingmar is originally from Junbesi in the Everest Region. He moved to Kathmandu to further his education and then completed his college education in U.S.A. Mingmar has travelled to many countries in Europe where he represented the Trekking Agents Accociation of Nepal in promoting tourism to Nepal. He has been exploring and participating in remote treks for over 2 decades now. Being a Sherpa himself, Mingmar is also very knowledgeable of the various cultures and traditions of Nepal. He also leads treks and tours regularly in Tibet. When not out and about on the trail, Mingmar lives in Kathmandu with his wife and 2 children.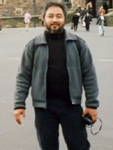 Nawal Khattri - Tour Operator & Trek Leader
Nawal has spent the past 20 years in Nepal's tourism industry as a Trek Leader, Naturalist, Safari Lodge Manager and Tour Operator. He has been a freelance and contractual Trek Leader of full-board, individual and specialty treks (e.g., bird watching, fresh water dolphin expeditions). Nawal has also worked for some of the top safari companies in Chitwan, Nepal. He has numerous professional contacts in the industry and has focused his career on cultural preservation and environmental conservation. Nawal enjoys spending his spare time trekking in remote regions of Nepal, interacting with the rural people, and cooking and eating traditional Nepali food. Nawal also travels and leads special interest groups in India. When not in Nepal or India, Nawal lives in the San Francisco Bay Area.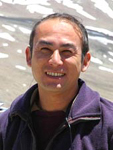 Sanjeev Chhetri - Tour Operator & Trek Leader
Sanjeev handles all aspects of Discover Nepal's operations and logistics. He has participated in leading treks in the Himalayas for twenty years, and has a wealth of experience in this field. He is an avid bird watcher and is very knowledgeable of the cultures, religions and traditions of his country Nepal. He has also lead treks regularly in the Alps and has traveled all over Asia, Europe and America. Sanjeev has many contacts in Nepal, Tibet, Bhutan and India which has helped enormously in keeping the costs of our trips so competitive. He is a very detailed-oriented individual and as a resutl, all services, accommodations, trip leaders and staff are personally approved by him. Sanjeev brings experience and a high quality of service to Discover Nepal.